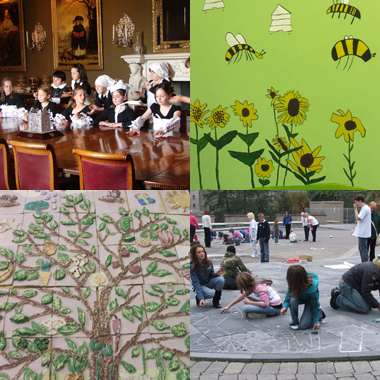 I have worked as a free-lance educator with people of all ages and abilities for several years.
My oldest "student" was 92 year old Grace who lived in sheltered housing in South Edinburgh. We met when I was asked to "do craft things" with Grace and her neighbours on Wednesday afternoons in their community house. My youngest pupils were Primary 1 pupils at a school in Hawick – they needed help to give their Dining Hall/ G.P. room a "make-over". We drew beautiful bees to add to a panoramic mural.
I have worked in locations as diverse as windy East Lothian beaches to the splendour of the dining room of Bowhill, the Duke of Buccleuch's house in Selkirk. I can offer classes in ceramics, textiles, drawing, painting, printing and mixed media sculpture.
I am a "Bridge Builder" with the Scottish Borders Council's Cultural Outreach Team and have been employed by Edinburgh Council and the School of Continuing Studies at Edinburgh College of Art.